Let's talk about content ideas. If you've been an affiliate for a while, finding new ways to promote your products can offer a challenge.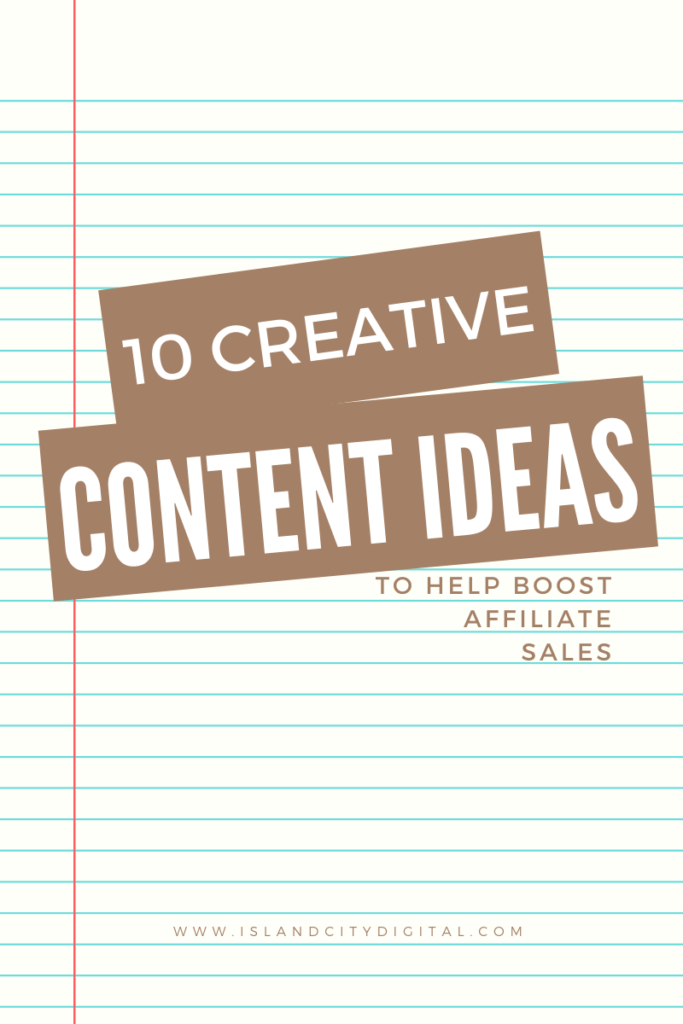 The number one piece of solid advice I can give you is that no matter what type of content ideas you utilize, they need to solve a problem for your readers and followers.
Anything else is simply a waste of all your time and efforts. Now, let's get started.
Click on a Link Below to Jump to an Item in the List
10 Creative Content Ideas
If​ ​your​ ​content​ ​sheds​ ​light​ ​on​ ​things​ ​they're​ ​confused​ ​about​ ​or​ ​solves​ ​a burning​ ​problem,​ ​they​ ​won't​ ​hesitate​ ​to​ ​follow​ ​your​ ​product recommendations.
Gift Guides
One of the biggest challenges people face is unique gift ideas. Consider creating a separate gift guide for a variety of different occasions. Some examples are anniversaries, birthdays, baby showers, and weddings. You could easily include Promptly Journals, Catch Sitka Seafoods, and Finn + Emma into any of these. Not sure how to create a gift guide? Read my article Creating a holiday Gift Guide that Converts.
Seasonal Content
While seasonal content isn't exactly evergreen, it's pretty darn close. It can be shared every year with zero to minimal updates. Think summer vacation packing list, back-to-school must-have lists, Christmas decor, Fall porch faves, the possibilities are endless!
How-To Articles
Creating an article that not only introduces your followers to a product but shows them how to use it can be super helpful to them. After all, if they don't know how to use it, they certainly won't buy it. Be sure to include step-by-step photos.
Shop Page
Make a simple shop page on your site with photos and links to all the products you promote. Break them up into categories so it's more organized and readers can easily find what they're looking for. Don't forget to include Promptly Journals, Catch Sitka Seafoods, Finn + Emma, and Kennedy Blue!
Product Review
Write a product review article showing readers what you love most about a specific product. More importantly, show them how it can solve a problem for them.
Stories
Create an Instagram or Facebook story showing followers how you use the product in your everyday life. This will show them that you actually use the products you promote. It also helps to build their confidence and trust in you.
Instagram Highlights
Creating an instagram highlight featuring all of the products you use (with links, of course!) will help your followers find your promoted products even after your story has expired. People aren't always ready (or have time) to buy the very moment they see your story.
Newsletter
If you aren't already sending out a monthly newsletter, you need to be. Not only do newsletters give readers a chance to catch up on what they've missed from your blog, they also give you the opportunity to link to your favorite products. During specific holidays, you can even treat it like a mini gift guide by including several links. Just be sure you aren't bombarding them with tons of links every month. This can cause you to actually lose subscribers.
Livestream
A livestream allows your followers to see you using products 'in person'. No fancy video retakes or Photoshop tricks here. Plus, they can ask questions and get answers in real-time, which can be invaluable to them.
Add links to Existing Content
You don't always have to create new content to make more money from affiliate links. Put affiliate links where the most traffic is. Another advanced affiliate marketing strategy that's super easy to implement is going through your existing content to see which of your pages are currently getting the most traffic. You can do this using Google Analytics. Once you've identified a few high-performing pages, add affiliate links to them. Make sure the content is relevant.
Did this post on content ideas help you? If so, we'd love for you to share!
Affiliate Program Options
Looking for some great brands to partner with? Consider joining one of our amazing affiliate programs today!
You May Also Like:
How to Grab your Affiliate Links on ShareASale